Vietnam/They want to give a good education to the children of Lai Châu
Despite many difficulties imposed on them on a daily basis, two teachers Ngô Thi Hà and Dinh Thi Thai decided to work in Pa U, the most deprived commune of Muong Tè district, northern province of Lai Châu, with a sacred mission: to bring better education to local children.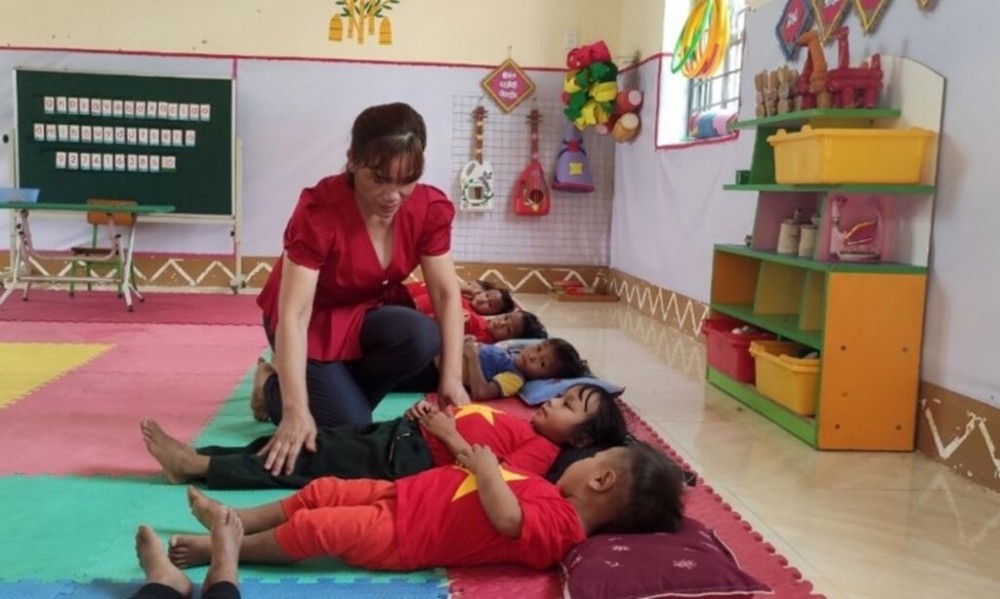 Ngô Thi Hà and Dinh Thi Thai have been working in Pa U for years. They are now used to their hard working conditions, especially the distance from their families. But this was not always the case...
"The first few days, I must admit I was shocked because the classrooms are almost all built with tarps and bamboo... The first month was the hardest... Living far from my family and having to work hard, I lost 10 kg and I even had the intention to quit... But that's how life goes and I've been teaching there for 17 years now", confides Ngô Thi Hà.
"I miss my children very much but I love my teaching career and I wish to bring a good education to the students of this underprivileged commune", shares Dinh Thi Thai.
The family, their source of encouragement
As for Ngô Thi Hà, in addition to a strong passion for her career, her main source of encouragement is the support from her family.
"Fortunately, I have a supportive husband who takes care of all the household chores so that I can devote myself entirely to my work," she says.
Pa U commune is the place where mainly La Hu people live. Its poverty rate is over 80%. In the past, whenever the agricultural season came, local children used to help their parents in the fields instead of going to school. Therefore, teachers like Hà and Thai had to come and persuade the parents to let their children go to school.
Originally from the Muong ethnic group in Hoa Binh, Thai moved to Muong Te and has been teaching there for 30 years, especially in the most disadvantaged border communes such as Pa U, Ka Lang and Thu Lum. She and her colleagues often conduct meetings with parents to encourage them to send their children to school.
"There were days when none of the students went to school and we had to go and look for them in the fields where access is particularly difficult. This could take hours. Many people here think that it is not necessary to go to school... We, the teachers, have to do our best to convince the parents of the importance of schooling so that they send their children to school," says Thai.
Pa U's enrollment rate improved
It is thanks to dedicated teachers like Thai and Hà that Pa U's enrollment rate has gradually improved, now reaching 100%.
Indeed, Thai and Hà are still actively working to improve the quality of education and learning conditions of the students. To better communicate with her students and facilitate teaching, Thai has also had to learn not only the customs and practices but also the dialect of the La Hu people.
Each year, thanks to the support mobilized by the teachers, the students receive new clothes, books and necessary school supplies. They also receive free lunches. Ly Sa Pu, one of the students' parents, expresses his respect and gratitude to the teachers.
"We are really admiring these teachers who do not care about the difficulties of this remote township," he says.
It is true that there are still many difficulties here, but Thai and Hà are committed to imparting new knowledge and values of life, in the hope, no doubt, that a better and more prosperous future will emerge for their dear students.
For these two women, each day spent at school is a joy. An aspiration that they hope will one day become a reality.
Source: lecourrier.vn/
---