France/Biking and walking: active travel is popular with local authorities
Even the least densely populated areas are benefiting from a greater number of measures in favor of soft but active travel. Communities have integrated walking and cycling into their strategies and are devoting more human and financial resources to them.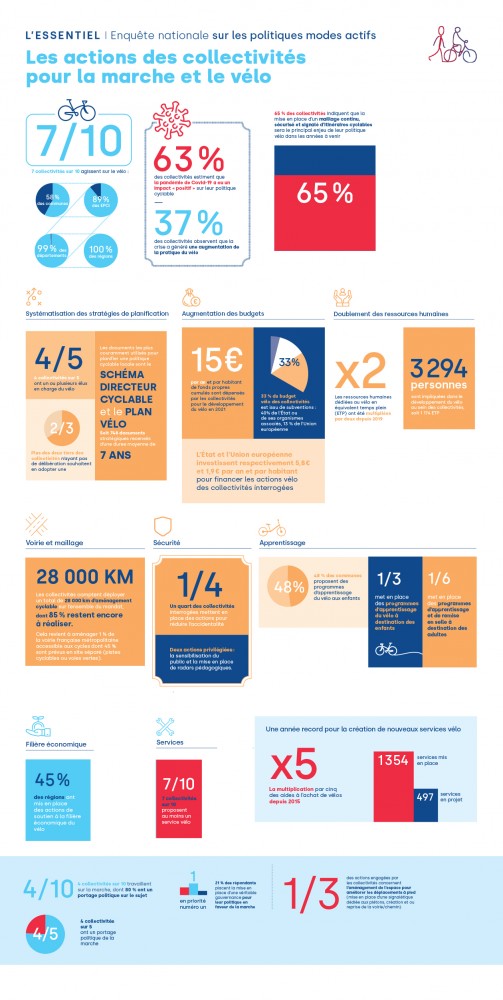 Long marginal, policies in favor of cycling and walking are now an integral part of the policies of most local authorities. This is the conclusion of a vast survey of more than 1,000 local authorities conducted by Vélo & Territoires with the Club des villes et territoires cyclables et marchables.
Between April and May 2022, despite its density, 89% of regions, 86% of departments and a third of inter-municipalities were mobilized to respond to a long questionnaire of some 170 items. A body of work never before achieved," commented Françoise Rossignol, president of the Club des villes et territoires cyclables et marchables, when the results were presented on Wednesday, March 22, " and which shows the extent to which they have taken up the issue .
Actions underway or planned
Today, this commitment is reflected in concrete actions, in favor of cycling in particular, whose use has increased by 34% since 2019: 72% of respondents, including 100% of regions, 99% of departments and 89% of intercommunalities, are taking action for this type of mobility. Two-thirds of territories have already voted on a deliberation related to this issue and the same proportion have drawn up bicycle plans and master plans.
More than half have also initiated projects: bicycle facilities, 30-minute zones, meeting zones, installation of colored pavements, modification of traffic plans, signage, making intersections safer, etc.
More human and financial resources
At the same time, in order to encourage intermodality, local authorities are developing parking spaces, 20% of which are secured. They have also multiplied by five the aid for the acquisition of a bicycle since 2015. More than a quarter of them offer one. As for the service offer, it has increased significantly in 2021: 29% of respondents have set up a long-term rental service and 18% have a self-service rental service. Finally, 76% promote bicycle tourism, one in five raise awareness among businesses and one in two are working on a learning program for children. Today, the bicycle is universally considered a real means of transportation," emphasizes Françoise Rossignol. In cities, medium-sized towns and increasingly in sparsely populated areas, it has become part of the transportation landscape.
In order to carry out these projects, human resources have been doubled, since 2019, reaching more than a thousand full time equivalents. As for the budgets devoted to these initiatives, they now amount to 15 euros per year per inhabitant, on average. " However, we are far from the figure," says Nicolas Mercat, vice president of Vélo & Territoires. For him, this total should be multiplied by two to reach the French objectives: 12% of modal share allocated to the bicycle in 2030.
Better consideration for walking
Another new feature of the survey is the emerging importance of "walking" policies. Slightly more than a third of the regions, including 41% of municipalities, have devoted a strategy to this mode of daily travel. More than 300 of them have translated it into planning tools, 44% of which are post 2019.
Among other measures implemented: specific developments, resumption of paths or creation of sidewalks, pedestrianization of public space, work on signage, communication and awareness efforts ... "We are discovering today that walking is not a matter of course, that it requires planning based on objectives and resources," explains Françoise Rossignol.
Trends that will become more pronounced
Supported by the government's Bicycle Plan and the EU's Bicycle Strategy, these trends should be confirmed in the coming years. By 2026 or 2027, 480,000 parking spaces and 28,000 km of cycling facilities should have been built, in addition to non-segregated infrastructure. One out of five local authorities will also seek to better structure their "walking" governance, in particular through the adoption of a pedestrian plan.
Source: www.actu-environnement.com
---