Congo/Brazzaville: Healthy environment rewards the most sanitized neighborhoods
On January 27, the non-governmental organization (NGO) awarded prizes to three districts of Brazzaville for their tireless efforts in large-scale public sanitation actions during the "Bopeto bwa ekolo" campaign conducted over a month and a half.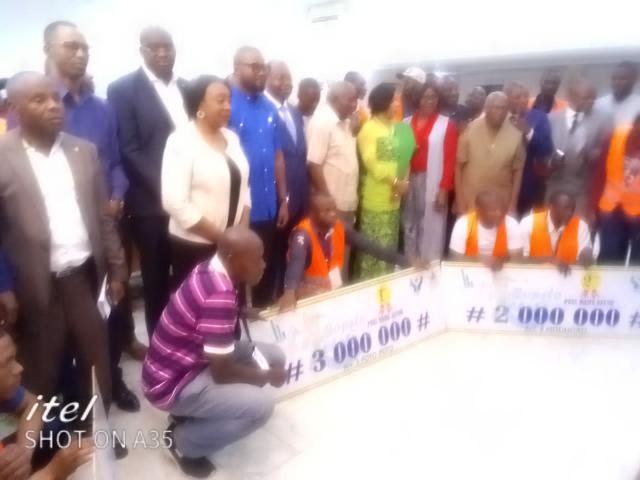 The campaign, conducted with the support of the Congo Assistance Foundation, was held from December 5 to January 15. Three districts of Brazzaville, namely Moungali, Poto-Poto and Djiri participated in this second edition. The operation consisted in cleaning the main arteries and public spaces of the city, supported by the collection of solid waste in households, alleys and avenues of the capital city.
To support the actions carried out, Healthy Environment offered free of charge more than 1,000 garbage cans to households and stores located along the main arteries in the targeted neighborhoods, explained the president of this organization, Yvon Kaba, executive manager of the challenge "Bopeto bwa ekolo".
At the end of the operation, three neighborhoods that held firm in rolling up their sleeves each received a reward as an encouragement. In Poto-Poto, the 331 district was judged the best cleaned up and thus received the sum of three million FCFA from the NGO.
The second prize was awarded to a neighborhood in Moungali, which received an envelope of two million FCFA as a reward. The ninth district of Djiri was ranked third and received an envelope of one million FCFA.
A great satisfaction for the director of Healthy Environment, Yvon Kaba, who urged the Congolese, wherever they are, to adhere to the initiative "Clean City" in order to clean up the cities and the environment of the country.
Speaking to this effect, Michel Mongo, Secretary General of the Congo Assistance Foundation, the immediate partner of the NGO, assured that his structure will continue to support Healthy Environment in its actions so that it brings a plus in the daily life of the Congolese.
A non-profit philanthropic organization, Healthy Environment was created in 2012. It carries out its activities in Pointe-Noire, Brazzaville, Ouesso and other localities in the country in several areas. Among the activities carried out, we note sanitation campaigns in schools and conference-debates with citizens on the preservation of the environment.
Source: www.adiac-congo.com
---