Benin/Education: The 12th edition of the University of vacations launched
The Minister of Kindergarten and Primary Education launched the twelfth edition of the university vacation at the Teachers' Training College in Dogbo, in the department of Couffo, Monday, August 8, 2022. It was in the presence of members of his cabinet, authorities of the department and participants.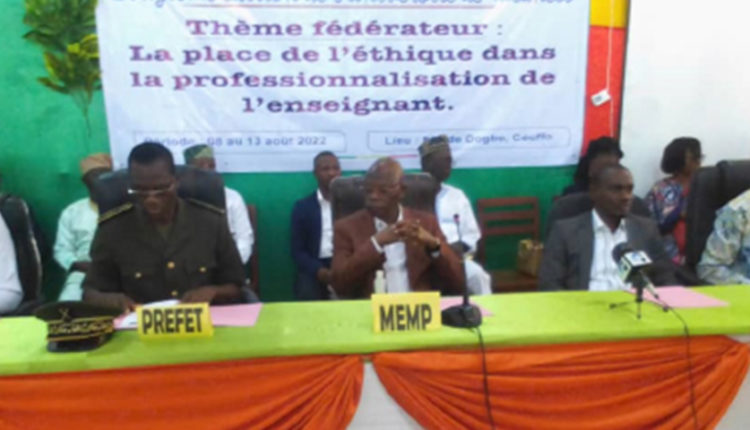 "The place of ethics in the professionalization of the teacher" is the theme that is the object of reflection during this edition of the Holiday University for kindergarten and primary school teachers. It is a theme that comes at the right time to respond to a school world in manifest crisis in which the image of the teacher, the central pillar of the system is increasingly challenged, says the prefect of Couffo, Christophe Megbédji. Today, as in the past, the vacation university remains one of the frameworks for exchange and capacity building that focuses not only on professional skills and the supervision of teachers, but also on the development of their skills.and pedagogical supervision, but also and above all on interactive methods and techniques to meet the specific needs of learners. The Minister of Nursery and Primary Education, Salimane Karimou, addressing the central theme, posed the problem: "Why do our learners not benefit from our knowledge?"According to him, the various evaluations made at the national and international level, reveal that Benin's teachers are performing well. Paradoxically, the children they teach are not doing well. This is why the authority expressed the wish that reflections be conducted to identify the core of the problem.
The agenda of the workshop has been well furnished by the National Institute for Training and Research in Education (INFRE), the organizing structure of the University of Vacation, to allow participants to come out of it more seasoned. They will have to follow presentations and work in workshops to build tools adapted to their reality in the field in schools. Sufficiently equipped trainers will conduct the sequences. The academics will be entitled to sports and cultural activities. This edition of the vacation university ends on Saturday, August 13, 2022, after visiting some tourist sites in the town of Dogbo.
Source: matinlibre.com
---