Canada/Prefects Conference: attractiveness strategy, new organization and digital pavilion
The Gathering of Elected Officials of the Conference of Prefects of Abitibi-Témiscamingue, held Thursday in Amos and Friday in Landrienne, included announcements from the Ministère des Affaires municipales et de l'Habitation.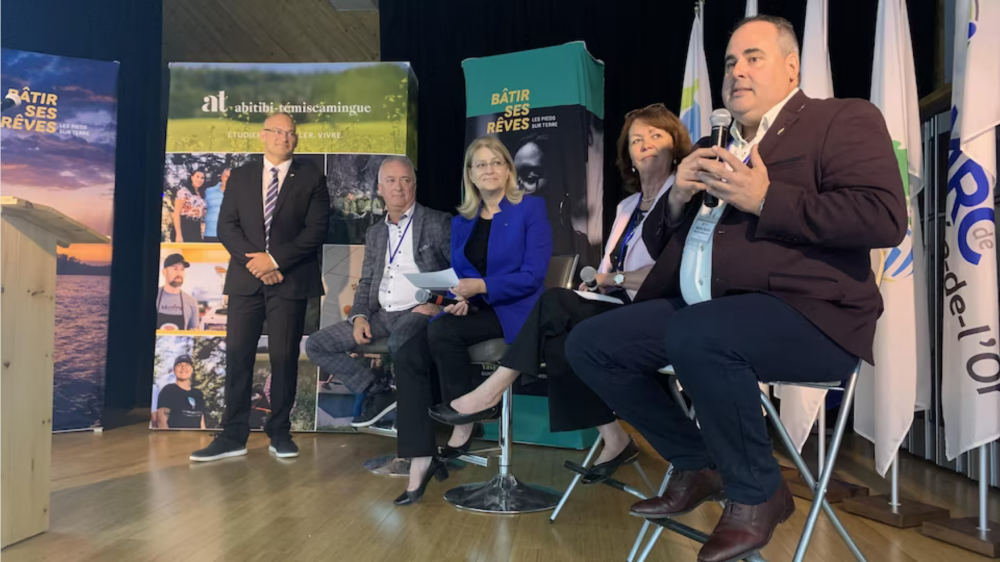 The Agence d'attractivité de l'Abitibi-Témiscamingue is the recipient of $2.3 million in funding, the majority of which is provided by the Ministère des Affaires municipales and the region's MRCs.
The announcement was made Friday morning by Pierre Dufour, MNA for Abitibi-Est, and Suzanne Blais, MNA for Abitibi-West.
It's really something different, which should give the Abitibi-Témiscamingue sector and the sectors that will be involved an opportunity to ensure that we can quickly free up funds," explains Mr. Dufour, giving the example of the Centre intégré de santé et de services sociaux.
This view is shared by Louis Bourget, President of the Agence d'attractivité de l'Abitibi-Témiscamingue, who points out that the funds will be disbursed to local organizations to help them meet their objectives.s to organizations in the region to help them recruit and retain workers.
This will enable organizations in our region to submit projects related to attracting and retaining people here," says Bourget.
Building dreams with your feet on the ground
The Agence d'attractivité de l'Abitibi-Témiscamingue will also use part of the funds, awarded over a three-year period, to develop an attraction strategy, in addition to defining Abitibi-Témiscamingue's brand image.
This has already been underway for some time, notably the current brand image, which is Bâtir ses rêves les pieds sur terre. It's being applied to the region as a whole, but also to the five regional county municipalities," says Louis Bourget.
For the time being, he cannot specify the number of immigrants and workers he would like to welcome to Abitibi-Témiscamingue over the next few years. He adds that targets will be set over the coming year.
Beehive and digital pavilion
The Fonds régions et ruralité, created in 2019 by the Quebec government, is also contributing $150,000 to open a La Ruche regional office in Abitibi-Témiscamingue.
La Ruche is a non-profit organization specializing in socio-financing. Operating in 13 regions of Quebec, it enables local associations to raise funds.
It's a platform where people and organizations can submit their projects for donations. We didn't have it [yet] in Abitibi-Témiscamingue," explains Suzanne Blais.
Pierre Dufour also announced that $148,000 would be given to the Centre de formation professionnelle (CFP) de Val-d'Or to enable it to conduct a feasibility study.
Depending on the results of this study, the institution could then expand its premises or build a new building. Ultimately, the CFP hopes to set up a technology pavilion dedicated to the creation of digital training courses.
Source: ici.radio-canada.ca
---